Your Best Bet for Top-Notch Training Sessions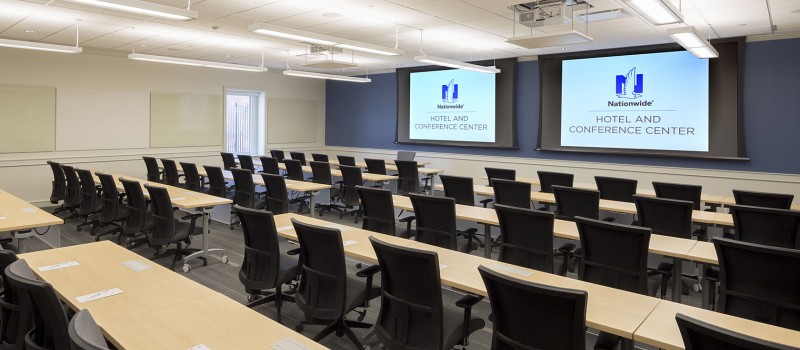 Nationwide Hotel and Conference Center is a full-service training facility for corporate, education, association and social events in Columbus, Ohio. Nationwide Hotel and Conference Center is a certified member of IACC (International Association of Conference Centers). IACC has more than 300 member conference centers worldwide, and Nationwide Hotel and Conference Center is one of five IACC conference centers in the state of Ohio, and the only certified conference center in Central Ohio. As an IACC member, Nationwide Hotel and Conference Center offers a far superior meeting and training experience to any other Columbus meeting venue in Central Ohio. Our uniquely-designed setting, remarkable services and support, and seasoned staff create a pleasant and productive experience that helps you achieve maximum results.
The World Class Training Academy at Nationwide Hotel and Conference Center meets the highest standards in six key areas: priority of business, conference center design, conference and business services, food and beverage, technology, and guest rooms. The result is a more productive and pleasant meeting experience for you!
Nationwide Hotel and Conference Center's highest priority is providing an unmatched level of service from the first agenda item to the final wrap up. With every detail, we are working to delight your guests and exceed your every expectation.
We provide everything you need for success:
Designated conference planner
Skilled support and audio visual staff
Business Center
Food, beverage, and refreshment services
State-of-the-Art Conference Technology
Ergonomic Furnishings
Business friendly guest rooms
Thousands of meeting planners understand the IACC meeting concept and trust how it delivers the technical sophistication and specialized services your meeting demands. Discover how Nationwide Hotel and Conference Center can make a difference for your organization. We set the standard over and above other hospitality venues.
Nationwide Hotel and Conference Center
100 Green Meadows Drive South
Lewis Center, Ohio 43035
Managed By
Hotel Marketing by Tambourine