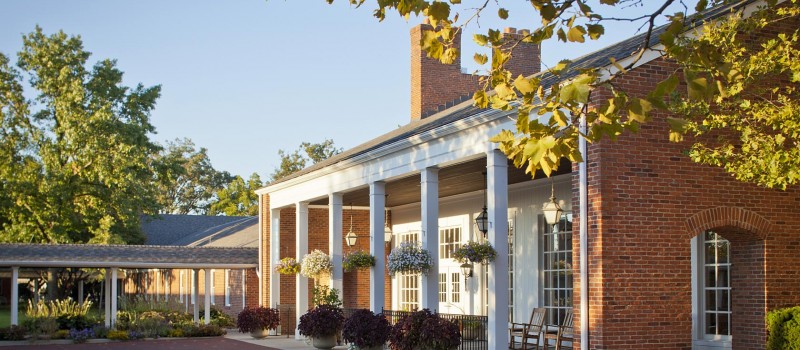 Nationwide Hotel and Conference Center is a one-of-a-kind family reunion location in Columbus that offers every imaginable amenity in one place — a separate dining facility with award winning cuisine, a luxury hotel, charming pub, unique recreation and entertainment options, relaxing courtyards, outdoor and indoor pool with poolside patios and service that is second to none.

We are conveniently located just north of Columbus and within 17 miles of Port Columbus International Airport. Enjoy a shopping experience at the Polaris Fashion Mall with over 150 of the finest specialty shops, just minutes from the hotel, as well as the nation's #1 rated Columbus Zoo within 10 minutes. We are across the street from one of Columbus' premier Metro Parks, Highbanks, which offers picnicking, a nature center, hiking trails, canoeing and fishing, a wetland viewing shelter and a natural play area. Within two miles of the hotel, you will find Camp Mary Orton, where zip lining, a ropes course and nature trails keep families happily entertained.

Ready to plan a family reunion? We've packed plenty of fun and value into our Relax & Reunite Reunion Package, including:
Saturday evening "movie night" showing a family-friendly movie for all to enjoy
We would be happy to set up a card area for your family. We offer a variety of indoor & outdoor games on a complimentary basis, including board games and cards, corn hole, latter ball, bocce ball, and Frisbee
Complimentary breakfast buffet
Several group dining options on our 15-acre park like setting, including a family cookout, pig roast or themed event
Group rates with 10+ room nights or more
Upgrade to a Parlor Suite that can be used as a hospitality suite at the group rate. This would be an excellent place to scrapbook and/or look at past and present photo albums
Water stocked refrigerator and a tray of cookies for parlor suite, upon arrival
1 complimentary room night for each 40 room nights utilized
Complimentary WiFi in guest rooms and on the property, so you can post photos of how much fun you are having while you are still here.
Discounted airport transportation and complimentary local transportation within five miles
Complimentary registration area for your group
At Nationwide Hotel and Conference Center, we believe the best family bonding takes place at the dinner table. Explore two of our most popular culinary events for your family.
Outdoor Pig Roast
Chef Attended whole Roasted Pig with brown sugar and bourbon barbeque sauce, mustard barbeque sauce, spicy South Carolina vinegar
Barbeque sauce and mango chutney. Served with Kaiser buns and confetti coleslaw.
NorthPointe Salad with Honey Cider Dressing and Sundried Cherries, Dry bleu Cheese crumbles and candied pecans
Sweet Potato Salad with a mild kick
Roasted Summer Vegetables: Asparagus, zucchini, squash, peppers, carrots and tomatoes
Cookies and Brownies
Served with assorted soft drinks and iced tea
(Minimum 50 guests)
Gourmet Cookout
NorthPointe Salad with Honey Cider Dressing and Sundried Cherries, Dry bleu Cheese crumbles and candied pecans
Tomato Salad
Grilled Hamburgers and Hot Dogs
Lettuce, Tomato, and Dill Pickles
Assorted gourmet cheeses
NorthPointe Burger Toppings (12 total)
Assorted Buns
Served with assorted soft drinks and iced tea
Nationwide Hotel and Conference Center
100 Green Meadows Drive South
Lewis Center, Ohio 43035
Managed By
Hotel Marketing by Tambourine