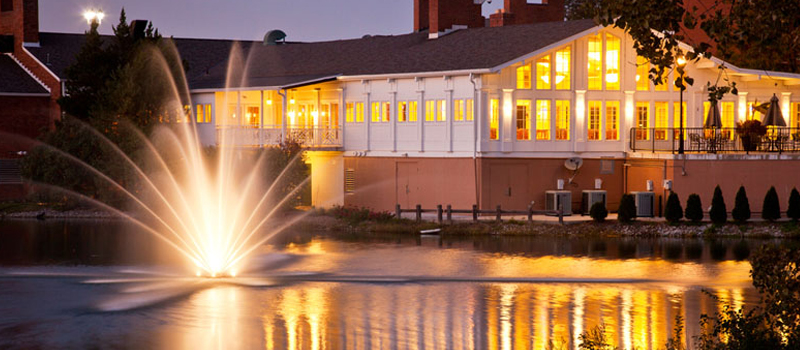 Nationwide Hotel and Conference Center is an inspiring oasis that offers every imaginable amenity in one place—a separate dining facility with award winning cuisine, a luxury hotel, charming pub, unique recreation and entertainment options, relaxing courtyards, outdoor pool with poolside patios and service that is second to none. It's the ideal company or church retreat venue in Columbus.
At Nationwide Hotel and Conference Center, all we do is everything. Casual meetings. Retreats. Once-in-a-lifetime affairs. No matter the event, we'll work to make it happen. And though every event is as unique as the individuals in attendance, each shares a common element: delighted guests. The Reason? Our single-minded focus on every detail. When someone chooses Nationwide Hotel and Conference Center, they become welcome guests, treasured visitors and confident hosts.
Ready to plan a church or company retreat? We've packed plenty of fun and value into our Meet & Retreat Package, including:
Complimentary registration area for your group.
Welcome amenity
Buffet dinner complete with action station, three entrees, assorted salads, and desserts on arrival night
Meeting room rental and audio visual package included.
Guest room accommodations for one night, with complimentary high speed internet in room and on property
All day breaks included.
Complimentary breakfast buffet for all guests staying over.
Lunch buffet for all guests at your retreat with action station and multiple choices for any taste or dietary need
All service charges included.
An additional meeting room that can be used as either a worship room or for entertainment. We do offer a variety of indoor & outdoor games on a complimentary basis, including: board games & cards, corn hole, latter ball, bocce ball, and Frisbee.
Discounted airport transportation and complimentary local transportation within five miles. If you need to go further than that, we can offer discounted pricing for your group.
Several nice group dining options on our 15-acre park like setting, including a relaxed cookout, pig roast or themed event.
One of the best things about a company or worship retreat is the opportunity to gather together and break bread. At Nationwide Hotel and Conference Center, we've come up with lots of creative ways to do just that!
Chili Cook-Off
Build and let it simmer! Choose from an array of chili ingredients with your team's allocated budget in our own NHCC Market. Strategize your game plan with your team to come up with the best recipe possible. Stir, Simmer and Socialize! Allow the culinary team at Nationwide Hotel and Conference Center to put your team's chili to the test. Enjoy your creation along with a tailgate themed buffet to finish off the evening.
Scavenger Hunt
Tired of the team building activities contained to the four walls of the meeting room? Get out and around Nationwide Hotel and Conference Center with a full campus scavenger hunt! Interact with your team and the staff to gain clues and hints to victory! After making your way around Nationwide Hotel and Conference Center, head off to your Around the World action buffet waiting at the finish line!
Nationwide Hotel and Conference Center
100 Green Meadows Drive South
Lewis Center, Ohio 43035
Managed By
Hotel Marketing by Tambourine