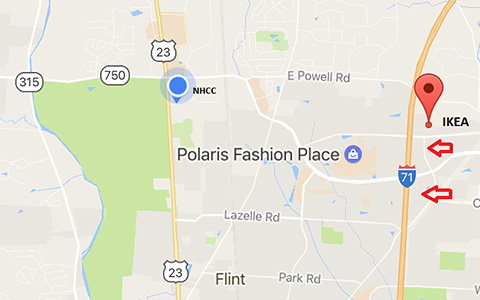 Traffic Congestion
The highly anticipated IKEA store is scheduled to open on June 7th just down the street near Polaris Fashion Place, and the crowds are expected to be massive, resulting in severe congestion on Polaris Parkway and I-71. There is a possibility that the Columbus Police may close the nearby exits on I-71 (red arrows indicated on the map) at I-270 and/or the exits at Polaris Parkway and Gemini Place, if conditions become too congested.
Please allow extra travel time and monitor traffic reports in the initial weeks of IKEA's opening; we are excited to see you and do not want you to miss the start of your meeting or special event! We suggest our visitors travel to Nationwide Hotel and Conference Center while avoiding the freeway when possible, as IKEA crowds will likely affect traffic in all directions.
We look forward to welcoming IKEA to the Polaris area and our guests to Nationwide Hotel and Conference Center!